What are concentrated cleaners and what are their benefits?
Concentrated cleaners offer greater economic savings, a smaller format, and optimal consumption.
Concentrated cleaners offer greater economic savings, a smaller format, and optimal consumption.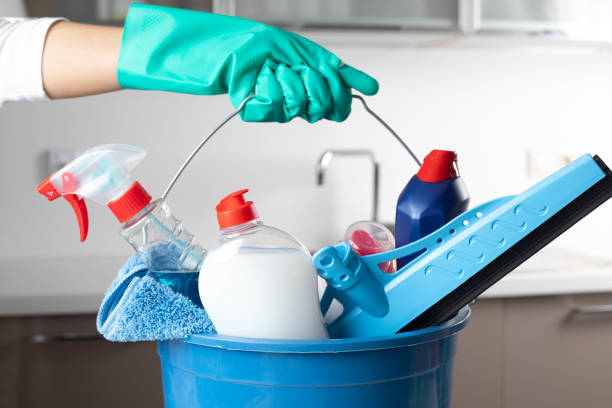 When we talk about surface cleaning products, we can differentiate between ready-to-use detergents or concentrated detergents.
This last group requires additional handling before applying the product to the surface. However, we could say that its advantages outweigh its drawbacks.
Next, we see what  cleaners or detergents are and highlight 5 benefits of these products.
What are concentrated detergents or cleaners?
Contribute to economic savings

Offer controlled and safer dosing

Provide better preservation

Make container transport more convenient

Make storage easy
Do you want to buy concentrated cleaners?
 The concentration of chemical cleaning or disinfection products is directly related to the composition and formulation of these products.
Concentrated cleaners are those that keep their components in a pure state, without having been diluted in water or other chemical agents .
This means that we ourselves will dilute the product at the time we are going to use it and in the desired or recommended amounts.
It is recommended that people who handle these kinds of  cleaning agents have specific training for it and use the appropriate Personal Protection Equipment.
Concentrated cleaners contribute to economic savings
Given its high concentration, this type of product is presented in a smaller format and, therefore, the price, in most cases, is in line with its size. 
The fact that it is presented in its pure state, without having been previously manipulated for direct application, also helps to reduce costs . The use of concentrated cleaners is, therefore, a safe bet to save on cleaning costs.
Concentrated cleaners offer controlled and safer dosing
Concentrated cleaners must be previously diluted in water before being applied to surfaces.
This means that the cleaning staff must explicitly measure the necessary and recommended amount and, therefore, we obtain a more controlled dosage.
In addition to avoiding product waste, we make the action of diluting the product safer, since it requires greater attention and training by staff . 
Using ready-to-use cleaners can create a false sense of confidence, leading to product waste and mishandling.
Concentrated cleaners provide better preservation
The main problem with ready-to-use cleaners is that they require immediate consumption since they have already been previously diluted.
In the case of concentrated cleaners, when diluted manually and according to the needs of each moment, we can enjoy the product for a longer time.
In any case, it is important that the mixtures that are prepared from the pure product are consumed immediately.
Make container transport more convenient
 The reduced size of the concentrated cleaning products makes their transport more comfortable and agile .
Let us remember that incorrect handling of chemical products or muscle damage caused by heavy loads causes.
The lighter format of concentrated cleaners makes transportation less risky.
Make storage easy
 Storing professional cleaning and disinfection products can become a real headache due to the dimensions of the drums or jugs.
By presenting concentrated cleaners, a smaller size facilitates storage and frees up space to store other cleaning products.
Remember that it is very important to label the products, incorporating the date of preparation of the mixture to prevent it from deteriorating.
Do you want to buy a concentrated cleaner?
At SCS Group a professional cleaning company with years of experience. We recommend using concentrated cleaning agents for more practical and money-saving decisions. There's a wide range of cleaning agents in the product catalog online. In it you will find products for cleaning surfaces, washing clothes or dishes.
In addition, we also have concentrated disinfectant products based on different formulas. For more information, you can write to us through our contact form and one of our advisors will assist you.